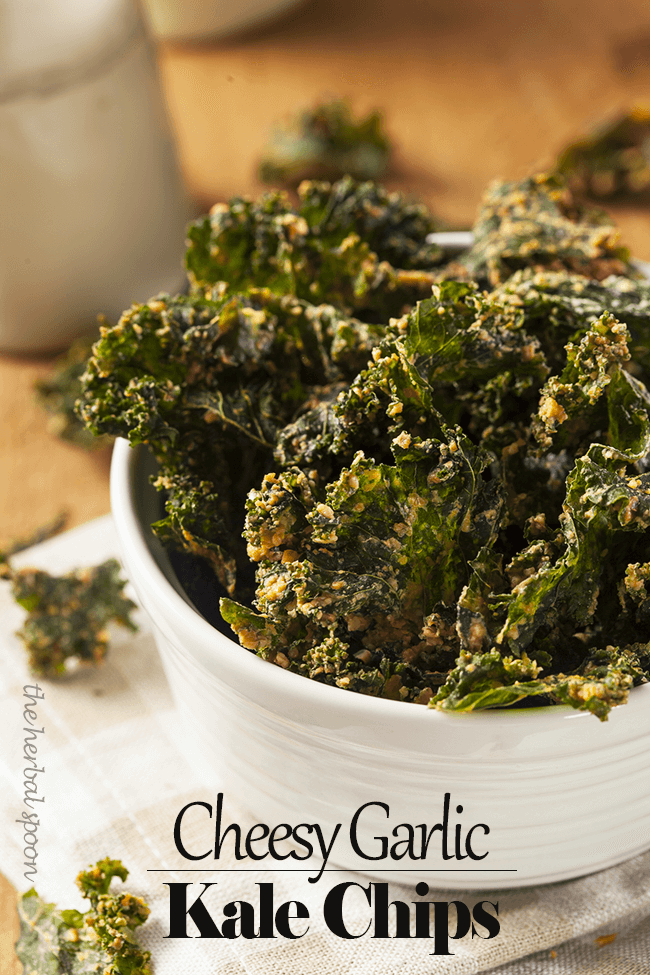 So I just received my first Conscious Box in the mail last week and I have to say, I absolutely loved it! One product that really stood out was the vampire killer flavored "Brad's Raw Kale Chips". I decided that I needed to make my own version of these, and to keep it raw I made some cheesy garlic dehydrated kale chips.
Cheesy garlic dehydrated kale chips
We had some kale that needed to be used and my grandma lent me her dehydrator forever ago and I'd yet to use it so… last night I experimented.
The Brad's recipe used chickpea miso, which I didn't have, so I replaced it with nutritional yeast. I think the yeast gives these dehydrated kale chips an even cheesier flavor!   My husband thought they tasted even better than the original chips and I loved the price. The Brad's brand chips cost $7.49 per ounce. My homemade ones cost much less than that, but price will vary depending on where you get your ingredients.
Sourcing ingredients
I bought the cashews and sunflower seeds in bulk from Whole Foods.  I've included the brands I use and recommend in the recipe if you can't find the ingredients you need locally. I buy a lot of my natural pantry items online though since it's usually much cheaper than my local store. The cost for making these dehydrated kale chips will vary, but it will still be significantly cheaper than buying the prepackaged ones.
Ingredients
1 sweet red pepper, seeds, stem and pith removed
5 cloves of garlic, smashed
1/4 c raw sunflower seeds - get it here
3/4 cup raw cashews - get it here
1/4 cup nutritional yeast - get it here
2 tablespoons lemon juice (about 1 lemon)
1 tsp sea salt - get it here
2 chives
2 bunches of kale
Instructions
Soak the cashews and sunflower seeds for 4 hours. Drain
Remove the stems from the kale and place the leaves in a large bowl.
Blend all ingredients except for the kale in a high power blender
Dump the cheese mixture onto the kale and use your hands to mix it around and coat both sides of each leaf.
Dehydrate below 115 degrees for 7-12 hours. This will vary depending on your dehydrator. Mine doesn't have a specific heat setting, just low, medium and high.
I made these at night after the baby had gone to bed, set the dehydrator and woke up to fresh kale chips! They could also easily be made early in the day for an evening snack. The trick to using your dehydrator is timing!
http://www.theherbalspoon.com/2013/05/cheesy-garlic-dehydrated-kale-chips-vegan-and-paleo.html
Recipe from The Herbal Spoon
What's your favorite healthy, crunchy snack to munch on? Let us know in the comments and be sure to share this post with a friend!
Shared at: Natural living mama