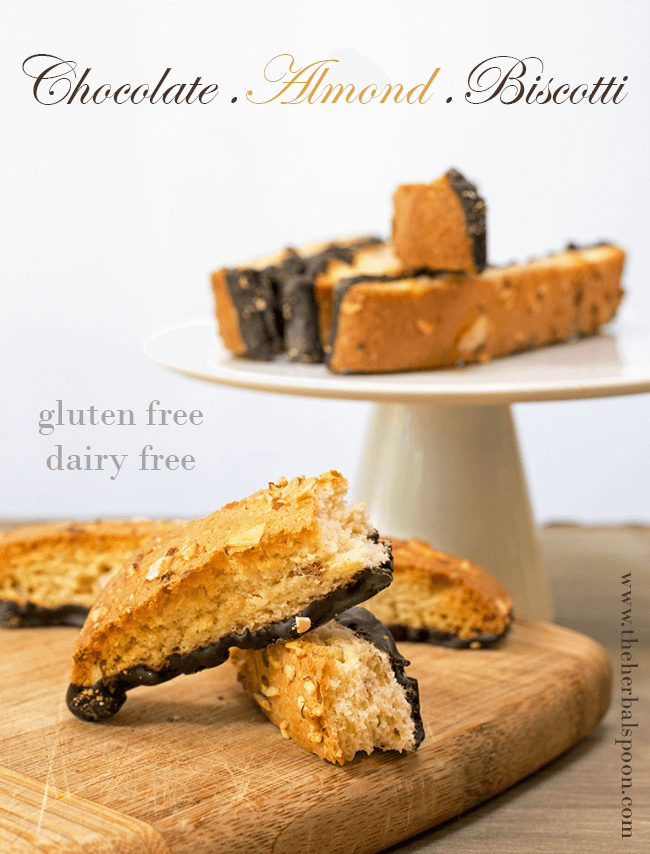 Don't let me into your house if you have biscotti laying around or I won't leave until I've eaten it all. A little extreme? Maybe, but I have very fond memories of biscotti being dunked in some coffee or herbal tea. Lately though I've switched my biscotti devotion over to this gluten and dairy free chocolate almond biscotti.
This cookie is rich and nutty with that satisfying dunking shape. It tastes divine with a superfood vanilla latte or some authentic Indian spiced chai. You can even give it a hearty herbal coffee bath with these caffeine free and superbly delicious herbal coffee recipes.
I have a hard time creating good gluten free chewy cookies, but with biscotti, that doesn't matter. Since these are designed to be hard, they naturally soak up whatever you dunk them into like a porous little sponge.
I made these for Christmas gifts since you don't really have to worry about them getting stale so fast. And since they're firm, they're great for mailing to family and friends, just be sure to wrap them well!
I really love using my silpat liner here since nothing sticks to it, even burnt sugar. It's also washable and reusable, unlike parchment paper, so it's more economical and an eco-friendly choice. You can read more about the safety of silpat liners here or see which one I have here.
Chocolate Almond Biscotti – Gluten and Dairy Free
Ingredients
Instructions
Combine the almond meal, arrowroot powder, rice flour, baking powder and coconut sugar together. A whisk works well for this.
Add the coconut oil, almond extract and eggs and combine until smooth. Stir in the chopped nuts. The dough will be very sticky, almost like a thick caramel. I highly recommend a mixer for this recipe, unless you're ready for a major bicep workout.
Place the dough on a greased and floured baking sheet and shape into a rectangle about 4 inches wide. Bake at 375 for 20 minutes.
Let the loaf cool and then cut into 1 inch slices. Lay the biscotti slices on their sides on a baking sheet and bake for 10 minutes at 325. Flip the biscotti over and bake for another 10 minutes.
Melt the chocolate over very low heat, stirring constantly. Dip and swirl the bottoms of the biscotti in the chocolate until they're coated. Place the chocolate dunked biscotti onto a silpat liner or parchment paper and cool until firm.
Serve dunked in hot herbal tea or some herbal coffee. This superfood vanilla latte gives a nutritional boost and tastes delicious on its own or with some biscotti!
http://www.theherbalspoon.com/2015/12/chocolate-almond-biscotti-gluten-and-dairy-free.html
Recipe from The Herbal Spoon
Caveman Cookie Exchange
These are the cookies that I sent out to some blogger peeps as sort of a "secret santa" caveman cookie exchange. So a shout out goes to the Paleo Cavewoman for her double chocolate peppermint cookies. My son has been eating them like crazy! You can find all of her awesome recipes here.
My favorites though were the paleo samoa truffles from Kitchen Vixxen. I *may* have hid them so I could eat them all myself. You can check out Kitchen Vixxens site here.
Lastly, we got some delicious spiced cookies from Gutsy by Nature. These resembled a gingerbread cookie and really reminded me of all the Christmas flavors I can't get enough of. You can find Gutsy by Nature here.