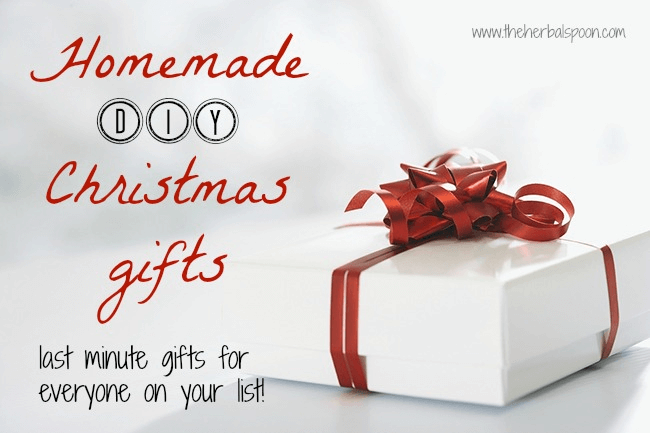 With Christmas right around the corner you may be starting to enter into panic mode. What can you get for everyone on your list that they don't already have and that they'll actually use? Of course you don't want to spend oodles of money or get just another big box store item that's impersonal. This Handmade gift guide will give you DIY gift ideas for everyone on your list this year.
Many of these items will appeal to multiple genders and age groups, but I've broken it down to make browsing easier. You'll find a mix of handmade bodycare and various DIY gifts.
The recipes below in bold without a link  can be found in my new e-book, Body & Skin – DIY bodycare gifts. I've attempted too many DIY recipes on Pinterest that just didn't work, so I tested and re-tested the recipes in my book until they were perfect. There are a total of 18 recipes for everyone on your list, including lip balm that doesn't feel waxy, body butter that doesn't leave you greasy and a lip scrub that tastes like gingerbread!
My brothers are getting some of the homemade woodsy beard oil for their newly sprouted whiskers. Though honestly, my youngest brother is still working on converting that peach fuzz into something manly. And my sister-in-law is getting some sleepytime bath soaks for the two little girls that like to drive her crazy sometimes.
DIY Gift Guide
Little girls
Whether it's for a game of dress-up or a night at homecoming, this shine boost lip gloss will make any girl feel more glam. The color is optional, making it appropriate for a variety of ages.
I used to love all of the different scents in the skincare aisle at the store. This orange creamsicle body scrub smells just as good as the toxic conventional versions, but won't leave you feeling guilty.
They fizz, they make noise, they smell great and bonus points since they help knock out toxic chlorine found in treated bath water. Floral bath bomb fizzies are an indulgent way to enjoy a nice hot bath.
If you know a little girl who loves playing baby dolls, then she'll love these doll cloth diapers and wipes. She can pretend to be a crunchy mama right alongside her own crunchy mama.
Older girls
Moms and women do a lot during the day and it can take a toll on the feet. Refresh tired tootsies and exfoliate unsightly skin with this invigorating peppermint foot scrub.
Every day needs some chocolate. This orange white chocolate whipped body butter smells divine and it won't go to the hips like some other treats. It's a heavy hitter for winter skin, but won't leave a greasy feel.
Every morning should start with a good facewash. These citrus floral cleansing grains do double duty by cleansing and exfoliating for glowing skin. They can be mixed with honey or water for an intense skin clearing face mask, or as an everyday face wash.
The cold winter weather calls for a cup of flavorful spiced chai. You can create your own Chai tea kit to put in a unique mug. Don't forget to include some gluten and dairy free chocolate almond biscotti for dunking!
Boys
Boys are harder to buy for, but you can skip the electronics and foster their creativity with some scented Play dough. Here are recipes for holiday scents, including eggnog, gingerbread and gingerbread play dough. You can even add vetiver and lavender to a batch for one that's calming for stressful days, or use lemon and orange for a mood boosting version.
If your little one loves playing superheroes, then he'll love having his very own superhero cape. You can get the easy tutorial here.
Perfect for snowy days after a run on the sledding hill, this real food hot chocolate mix will warm them up. Don't forget the homemade marshmallows for a protein and collagen boost.
Men
Boy toys just get more expensive with age. Fortunately there are plenty of diy options your man will love, like this bay rum aftershave that will leave their skin toned and moisturized.
Men can get a little overzealous with their cologne, but this natural version won't leave your eyes watering. The scent of this forest blend solid cologne lingers for hours and smells woodsy, without being overpowering.
If you know someone who's sporting a beard, or trying to, then this woodsy beard oil is a great fit. It helps tame unruly beards and soothes the irritated skin that can often accompany it.
Babies and Toddlers
As cute as your baby is, sometimes they need a little help unwinding at night. These sleepytime bath salts will help them relax and fall asleep with calming magnesium and lavender faster than you can say "I haven't had a shower in a week."
Bubbles make bath time more enjoyable, and they make great toddler beards. This coconut lime bodywash can also be used as a bubble bath for little ones. Like all soap, be sure to avoid getting it into little eyes.
Get messy with DIY, edible finger paint. Since you're using  food for natural colors, it won't hurt little ones if ingested.
Grandparents
As they age, older adults have drier skin. These portable lotion bars provide deep moisturizing properties for more mature skin.
Give grandma an elegant gift with this solid perfume in an aromatherapy locket. It has a citrus floral scent that also helps calm the mind and uplift the body.
Help grandpa rock that vintage 'do with this homemade hair pomade.