Easter is just around the corner and everyone is looking for Easter basket ideas. You could always pick up a few bags of sugary goodness from the grocery store, but then you'll probably have to deal with hyper kids and cavities. These chocolate peanut butter eggs are even yummier than the original Reese's version, and they just so happen to be healthy.
Easter memories of stuffing my face
Easter was one of my favorite holidays when I was a kid because of the candy. I would get an Easter basket from my parents full of the sugary stuff, and I'd get yet another basket full of candy from my grandparents. We were all so obsessed with the candy, that one year my grandma had to resort to counting each jellybean after the cousins complained some family members were getting more than them.
Although I'm no longer Easter basket greedy, I wouldn't mind having a bit of candy this year. We're trying very hard to completely remove refined sugar from our diets though. I've had to get creative over the years and we now sweeten almost everything with natural sweeteners, like with these grain free jam thumbprint cookies, or this raspberry chocolate mousse with a secret superfood ingredient.
A healthy version that also tastes great
Fortunately I came up with a way to completely skip the refined sugar from these chocolate peanut butter eggs. Yep, even the chocolaty goodness covering the outside uses a natural sweetener. The chocolate is a play off of my favorite healthy candy bars recipe and is full of healthy fats, antioxidants and minerals.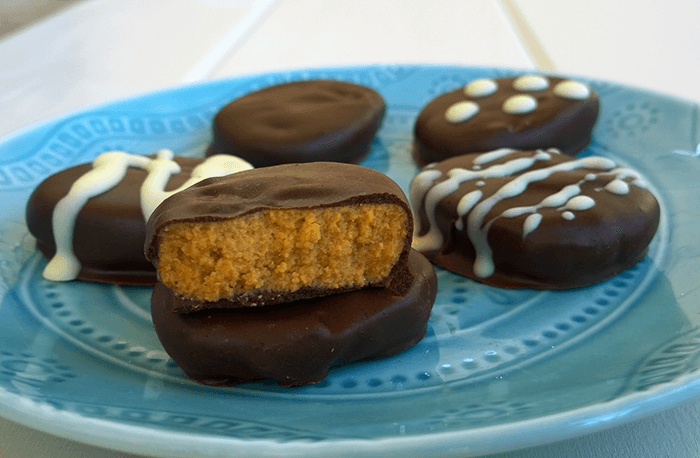 Typically the peanut butter filling is thickened with powdered sugar, but this version uses the secret power of coconut flour instead. Since coconut flour is super high in fiber, it really absorbs moisture without adding an overpowering coconut flavor.
I've shaped these into eggs since it's Easter time, but feel free to make a Christmas tree version for the Holidays, or heart shaped for Valentine's day. You don't have to wait for a holiday to whip a batch up though, they're that good.
Chocolate Peanut Butter Eggs
Ingredients
Peanut butter filling
Chocolate coating
Directions:
Using a mixer combine all of the filling ingredients together until thoroughly mixed. Let the mixture thicken for 10-15 minutes, then give it a good mix again. It should come together and form a cookie dough like consistency.
Meanwhile, on the stove melt the cocoa butter and coconut oil together over the lowest heat possible while stirring constantly.
Turn off the heat and whisk in the cocoa powder and raw honey.
Pinch off pieces of the filling/dough that are slightly smaller than golf ball size and roll into a ball with your palms. Place the balls on a parchment or silpat lined baking sheet and flatten with fingers. Use your fingers to shape the top of the ball into a tapered, egg-like shape.
Freeze the tray of peanut butter eggs for about 7 minutes, or until very firm.
Dip the frozen peanut butter eggs into the chocolate coating, and then place them back onto the lined baking sheet. I just used my fingers and set the egg into the chocolate mixture, flipped it over and then let a bit of the excess drip off before setting it on the tray. I then used my finger to gently cover the area where my finger had left a mark in the top of the chocolate coating.
Let the coating firm up for a few minutes, then enjoy eating your chocolate peanut butter eggs!
Do you have any favorite Easter traditions? Looking to start some new ones? Let us know in the comments below!
Linked at: DIY Crush Party