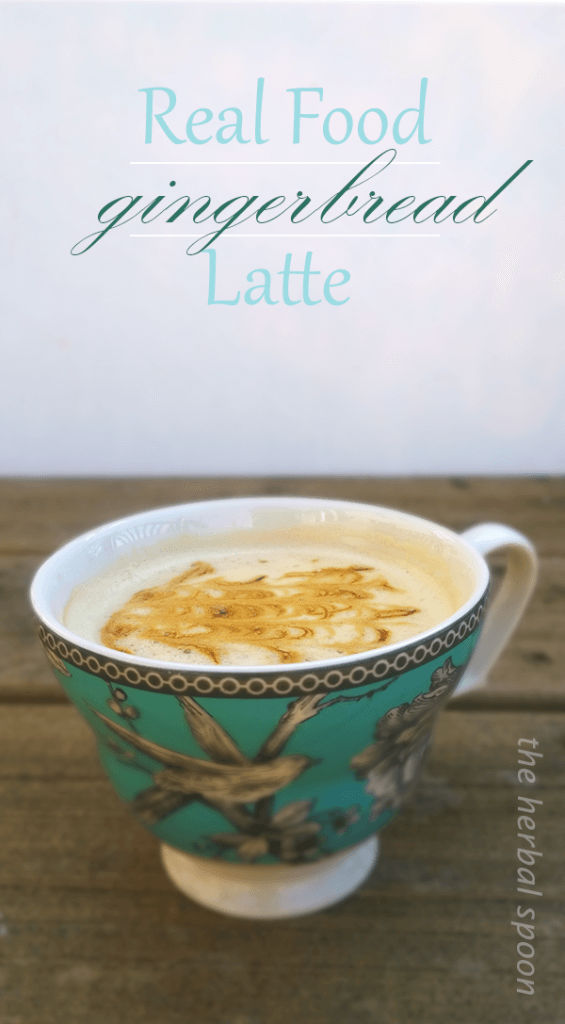 When you think of gingerbread you may think about Christmas, but this flavor is for more than just the holiday season. You'll want to sip on this creamy gingerbread latte every day! It makes a perfect addition to your morning routine, or as a midday treat.
I'm a big fan of the classic gingerbread cookie, but there's something about having it in drinkable form that makes this even better. This recipe is similar to my superfood vanilla latte, but it really kicks the flavor up a notch. Of course it's a latte so you'll need coffee, but if you're not into the regular caffeinated type, or you're trying to give your adrenals a rest, then there's another option.
A non-coffee option
My friend Jessica from Delicious Obsessions created this fantastic "coffee" blend. It's made from herbs that are not only caffeine free, but good for your whole body. Her happy liver coffee blend is my favorite, and tastes better than any other coffee sub I've tried. You can get the recipe for her secret coffee blends and drinks to make with them from her ebook here.
Pack a nutritional punch
Molasses is what really gives this drink the gingerbread flavor. It has a mild sweetness to it's thick, syrupy goodness, but it's also packed with nutrition. Molasses is naturally high in vitamin B-6, potassium and manganese. Just 1 tablespoon will deliver 12% of your daily magnesium. It's sweet enough on its own, that I actually don't add any additional sweetener to this recipe.
For the flavoring in this I played around with adding powdered herbs or boiling them in the water before brewing the coffee. With the dried herbs the flavor was too subtle, or gritty. And adding fresh to the water beforehand just made things too complicated for my taste.
Flavor for you gingerbread latte
I settled on adding essential oils to the recipe since it's simple, yet adds a punch of flavor. If you're thinking that I'm crazy and unsafe for doing this, then you can read my post on safely ingesting essential oils here. There's enough fat from the cream and coconut oil for the essential oils to disperse in the drink.
Word of warning here, make sure you're using pure essential oils, nothing that's been adulterated. Cinnamon essential oil is commonly diluted with cheaper cassia. Some essential oils are no more than synthetic fragrance oils. You can request more info on which brand I recommend for safety and quality here.
Don't forget some gluten free chocolate dipped almond biscotti to dunk in your gingerbread latte. It tastes pretty good with some grain free coconut jam thumbprint cookies too!
Ingredients
1 T coconut oil or grass fed butter - get it here
2 cups full fat, raw milk
3 T molasses - get it here
¼ tsp vanilla extract - get it here
1 T raw honey (optional) - get it here
2 drops ginger essential oil
1 drop cinnamon essential oil
1 cup very strongly brewed, hot coffee
Instructions
Gently heat the milk until it's very warm, but not simmering. You want to keep it below 115 degrees to preserve the live cultures. You can use a candy thermometer, but I just do the finger test. If you can comfortably touch the warm milk with a clean finger, then it's still raw.
Combine all ingredients in a blender and blend until foamy, about 10-20 seconds.
http://www.theherbalspoon.com/2016/03/nourishing-gingerbread-latte-naturally-sweetened.html
Recipe from The Herbal Spoon