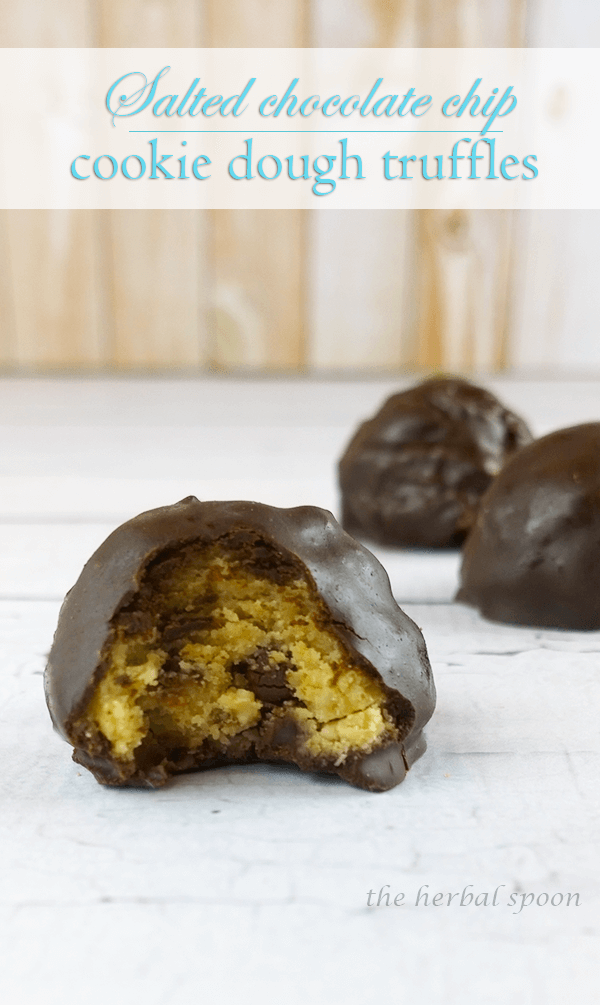 We're big fans of healthy, naturally sweetened, grain free desserts around here. These dark chocolate salted cookie dough truffles are super decadent, and super delicious with none of the bad stuff. You had me at chocolate.
There's something about the sweet and salty combo of salted chocolate that's just magical. And of course you can't go wrong with cookie dough. The almond meal and arrowroot combo provides the base of the "dough" without any grains or gluten. The cashew butter adds that extra layer of creaminess to really tie it all together. You can just use more almond meal if you don't have cashew butter, but I really like the neutral, almost cream cheese like flavor that it gives to the truffle.
Bite sized
One of the things I like about these, in addition to their chocolatey goodness of course, is that they're in nice individual sized portions. Now I can't say that I've ever stopped at just one, however this does make them easier to serve. It's also nice for when the little guy wants a treat; one of these can go a long way for a 4 year old.
They do get a little bit melty in our house, which is unreasonably warm, so they're stored in the fridge or freezer. If your house is cooler than 74 degrees, then feel free to keep them at room temperature. Keeping them really cold also helps them from melting all over your fingers as you're noshing down on one. Be warned though, that too long in the freezer makes them a little hard to chew.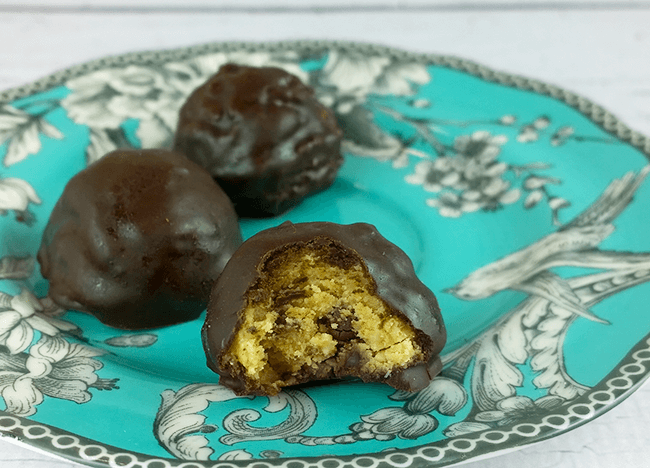 Make it dairy free
To keep it dairy free, use ghee instead of pastured butter. You could also use coconut oil, but ghee smells like toffee to me and gives a phenomenal, concentrated butter flavor without the milk proteins some are sensitive too. I also use this brand of chocolate chips since they're dairy, soy and gluten free, as my other half doesn't handle dairy well.
Salted Chocolate Chip Cookie Dough Truffles
Ingredients
Instructions
In a stand mixer or food processor combine all of the ingredients except for except for the chocolate and the 1 T. coconut oil. Mix until thoroughly combined.
Add in the miniature chocolate chips and mix until combined.
Roll the dough into bite sized pieces and place on parchment paper, or a silpat and put them in the freezer for at least 10 minutes. I LOVE my silpat and use it all the time, this is the one I have.
After the dough is very firm, melt the chocolate chunks and 1 T. coconut oil on very low heat on the stove.
Dip the frozen cookie dough balls into the chocolate and place back on the silpat or parchment. Pop these in the freezer for 10 minutes until the chocolate is hardened.
Store leftovers in the fridge. Can also be frozen for longer storage.
http://www.theherbalspoon.com/2016/05/paleo-salted-cookie-dough-truffles.html
Recipe from The Herbal Spoon