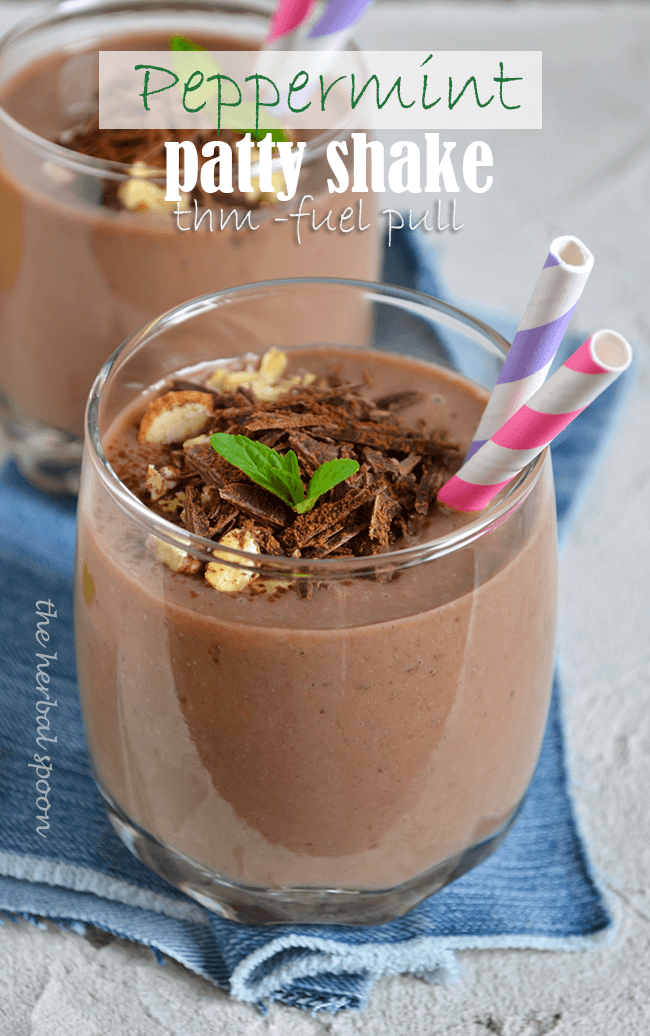 Looking for a delicious, healthy treat that won't sabotage your waistline? Try this peppermint patty shake on for size. It's so creamy, chocolatey and sweet, you won't believe it will help you actually lose weight!
Trying something new
I've been trying to finally lose some of that baby weight, before it becomes elementary school weight. Lately I've been dabbling in trim healthy mama, but doing it whole foods style. That means no artificial sweeteners or weird ingredients. I am fine with stevia however, which is an herb that you can grow yourself. You can read more about the safety and historical use of stevia here. Just be sure you're getting something that's minimally processed and from a trustworthy brand. Hint: grocery store brands like truvia aren't actually stevia!
I have a bad habit of binging snacking on sweets late at night, so I've replaced it with a healthy and filling shake. While this isn't a super nutrient dense snack, it does help to satisfy the sweet tooth and keeps me from turning to other things… like these dark chocolate salted cookie dough truffles.
So…how does it work?
Since this is what's called a fuel pull in the trim healthy mama world, it will actually help you lose weight. Basically, our bodies use either fat or carbs for energy, and by eating something that has very little of either, we burn more fat. You can also add a bit of coconut oil to the shake, which is known for it's weight loss properties and will help you feel fuller. I've chosen not to though as I don't need the extra calories in my shake, as I prefer to add coconut oil to other things, like my morning gingerbread latte.
Since this uses stevia, it won't spike your blood sugar either. If you really don't want to use stevia though, then you can use some raw honey instead, though that will spike blood sugar, so keep it as an occasional treat.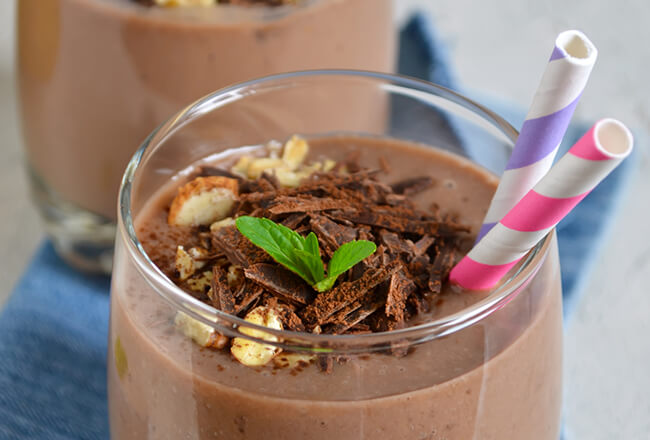 Adding essential oils
You may be tempted to add a few more drops of essential oils to this, but resist the urge. Too much will take you over the edge from culinary use, to therapeutic use, which can be dangerous if you don't know what you're doing. You can read more about safely ingesting essential oils here, or connect with me here to see how you can get started with my favorite brand of essential oils.
Even 3 drops was so overpoweringly minty, that it made the shake go from a tasty treat to something reminiscent of Vick's vapo rub shoved up the nose. So, go easy on the essential oil here. You can also omit the glucommanon if you don't have any, but it really turns this shake from a watery/icy consistency, to a pleasant creamy texture.
Gluco what??
Glucomannon (also known as konjac root) is a completely natural ingredient, and it's also what's known as a resistant starch. These resistant starches aren't used as fuel by the body, but they offer prebiotics for better digestion and gut health. Prebiotics are difficult to find in our modern society, so I find adding a bit of the dried and powdered glucomannon to things is an easy way to get more in my diet
Peppermint patty shake – THM fuel pull
Ingredients
Instructions
Add all of the ingredient except the whey protein and ice cubes to your blender and process for 1-2 minutes.
Add the ice and blend until smooth.
Now add the whey protein powder and blend just until creamy and fluffy. It's important to not add it until the end or it won't incorporate well.
http://www.theherbalspoon.com/2016/06/peppermint-patty-shake.html
Recipe from The Herbal Spoon
What's your favorite late night treat? Let us know in the comments and share this post with the buttons below!