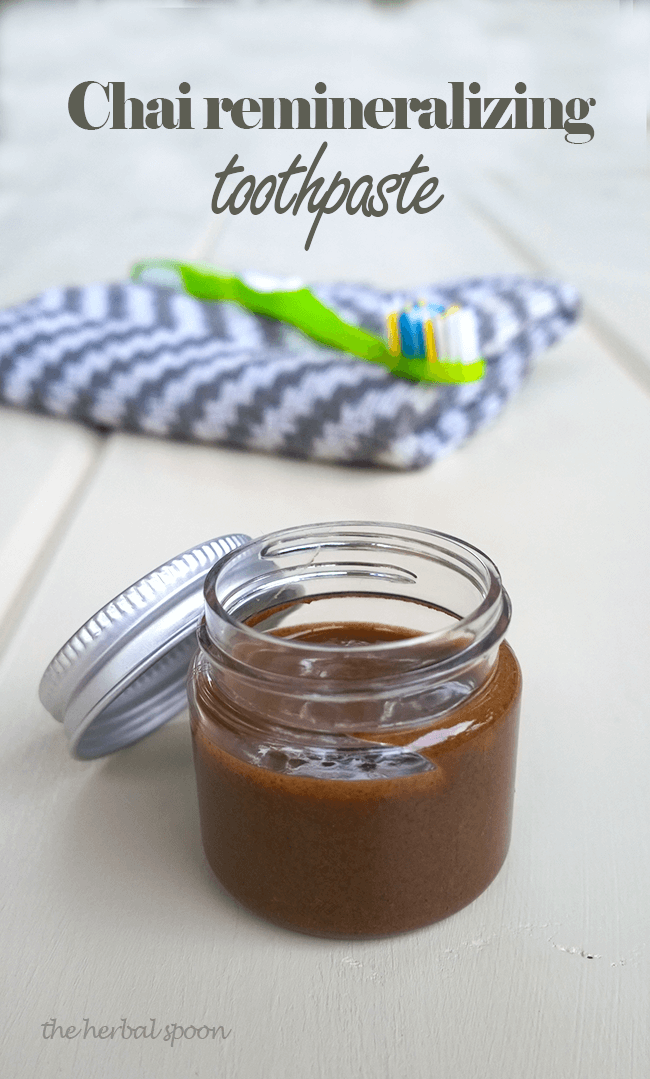 You could say that I'm pretty obsessed with toothpaste. I started making it a few years ago and it has since turned into a thriving bodycare business. Now I make almost all of the bodycare products we use, like rose lotion and hand sanitizer . This chai remineralizing toothpaste is my latest creation.
A sticky situation
You probably already know how bad conventional toothpaste is for you. All the fluoride, artificial colors and flavors can wreck havoc on your brain, thyroid and general health. But you may not know that most of the brands you'll find at the health food store still contain glycerin. Now glycerin is a great humectant for your skin, and I use it when I make bay rum aftershave. It's not so great for your teeth however.
Glycerin in toothpaste can leave a coating on the enamel. It's estimated that it requires over 20 rinses to remove the glycerin from the enamel, so chances are likely that it will stay there for awhile. Manufacturers use it because it's naturally sweet, and it helps to bind the dry ingredients smoothly together. It leaves a slick feeling on the teeth, but it also can prevent mineral rich saliva from strengthening tooth enamel. (source)
Coconut oil for the win
This chai toothpaste uses coconut oil instead of glycerin to leave that slick, clean feel. Coconut oil won't prevent remineralization like glycerin can, and it also helps to restore tooth enamel. Since regular unrefined coconut oil is solid at room temperature, I also use fractionated coconut oil to soften the remineralizing toothpaste to a useable consistency. Trust me, without it you'll end up with an impenetrable toothpaste brick.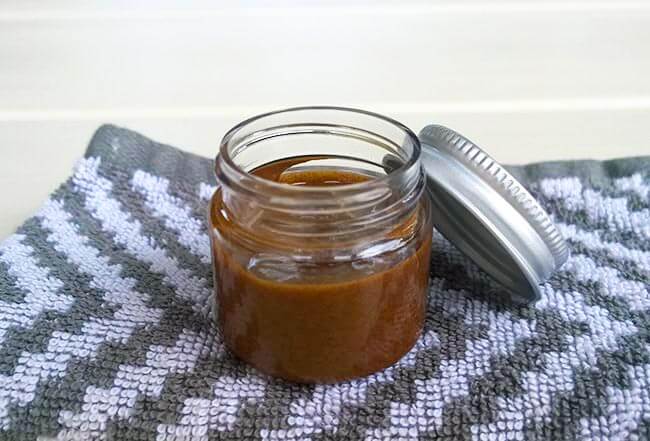 More awesome ingredients
I've used clay based toothpastes before, and not all of them actually get my teeth clean. Bentonite clay is great for absorbing toxins and heavy metals in the mouth, but it doesn't give much oomph when it comes to cleaning. I added some baking soda to help whiten and reduce plaque, but not so much that there's gum irritation. And the calcium helps to restore the calcium you need for strong enamel.
The flavor comes from cinnamon and clove powder, with some cardamom, cinnamon and ginger essential oils added in. The essential oils really pack a germ busting punch and help give this a strong, but not overpowering flavor. Because who needs boring old mint when you can have chai remineralizing toothpaste?
Chai Remineralizing Toothpaste
2 T. bentonite clay
1/2 tsp calcium carbonate powder
1 tsp cinnamon powder
½ tsp clove powder
2 tsp baking soda
1 drop each cinnamon and clove essential oil
2 drops each cardamom and ginger essential oil
2 tsps each unrefined coconut oil and fractionated coconut oil
In a small glass bowl combine all of the dry ingredients. Be sure to use stainless steel or non-metal utensils for this project, since the bentonite clay will pull the toxins from other metals.
Add the coconut oils and drip the essential oils into the coconut oil so that they mix into the toothpaste thoroughly. Use a small rubber spatula to mash the oils into the powder until thoroughly mixed.
Transfer to a glass container. Do not store this in the bathroom or any other warm and wet areas. Use a clean utensil, like a wooden popsicle stick to apply it to your toothbrush instead of dipping the toothbrush into the jar. When used and stored properly, this toothpaste should last 6 months.