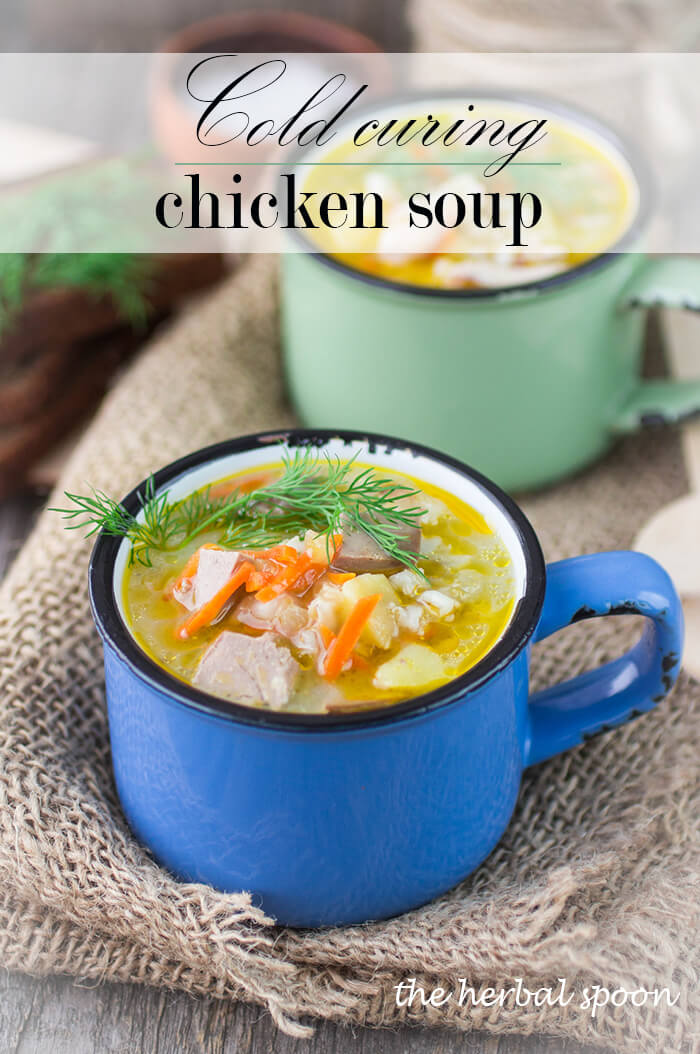 I've been able to avoid getting sick most of the time by taking extra care of myself at the very first sign of sickness. I like to load up on some elderberry syrup, herbal tea, and this cold busting chicken soup. It's an amped up version of the chicken noodle classic, so that you get even more health benefits.
Taking care of yourself
I can always tell when I'm about to get sick because I get that tired, run down feeling. If I ignore it, then I know in a few days I'm going to feel extra crappy. Preventative measures, like eating healthy, and taking care of yourself to relieve stress is important, but sometimes life gets in the way of those things. It never fails; I get busy, the stress builds, I indulge in sugar to keep me going and then bam…I'm sicker than a dog.
Sometimes life throws you a curveball, and as much as you want to, you just don't have time to take care of yourself like you should. The great thing about this chicken soup, is that not only will it help you be healthier, but it also gets dinner on the table. You can double the recipe if you'd like and freeze the extra for some other time. I like to make enough for several meals, especially since it takes me several days of targeted care to really get over a cold or flu.
Antibacterial ingredients
Onions and garlic both have potent antibacterial properties to help kick your cold to the curb. I'll often eat a slice of raw garlic in some raw honey every few hours when I'm sick, and it usually takes care of it completely. This study showed that onion was effective at killing multiple strains of bacteria.  Garlic is even better, as it can take care of not just bacteria, but viruses and fungus as well. You really want fresh garlic though, as the active ingredient is no longer viable an hour after smashing the garlic clove.
Oregano is also a powerful antibacterial herb, so I like putting some in this chicken soup. I've used thyme because its great for soothing coughs, and helping the body to expel excess mucus from the lungs and throat. If you can find fresh herbs that's best, but dried will absolutely work, and is what I use in winter anyway.
Mineral rich sea salt
Every soup known to man has salt, so why am I mentioning it here? Sea salt is full of trace minerals that our bodies need for optimal health. I like using light grey celtic sea salt, but Himalayan or Redmond's real salt are also great choices. Just don't use the cheap, bleached iodized "sea salt" at your local big box grocery store. That stuff is glorified table salt and just as toxic (source).
Boost circulation for faster healing
I normally use ground black pepper when cooking, but this soup uses cayenne pepper. Cayenne gives it a little kick, but it also increases circulation to speed healing in the body. Cayenne also helps to break up and move congestion from the body, which is great for stuffy noses. It has antibacterial properties, boosts the lymphatic system and aids digestion and detox (source).
Apple cider vinegar is another key player in this recipe. It may sound strange to include vinegar in your soup, but the acidity really helps round out the flavor and makes it taste amazing! I learned this from Sarah Britton's cookbook, Back to Your Roots, which just happens to be my all time favorite recipe book. Apple cider vinegar doesn't just make the soup taste better though, it helps the body detox, aids digestion and so many other things to help you get better faster.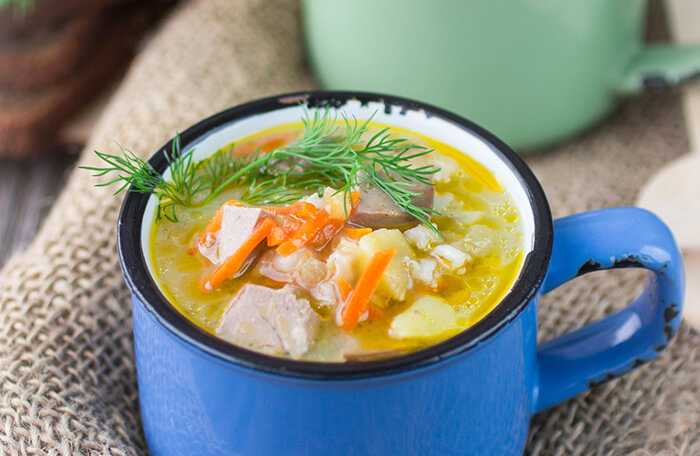 No chicken in chicken broth?
I was a little surprised when I read the back of the box on my organic chicken broth and realized that it was just organic chicken "flavors." Umm, what happened to the chicken? Making your own broth is super easy.
I make it with kitchen scraps for a broth that costs nothing, but tastes fabulous and is full of vitamins and minerals. I cook a whole chicken, then take the meat off for meals, like this chicken soup recipe and make broth with the bones. You can get my recipe for concentrated chicken broth cubes here. I just recently got this instant pot, so I'm looking forward to making my broth in there next time, since it's so much faster than my crockpot!
Cold busting chicken soup to get you better fast
Ingredients
1 onion, diced
4 stalks of celery, thickly sliced
6 carrots, thickly sliced
2 cups green beans, cut into 1-2 inch pieces
3-5 cloves of garlic (I use the lesser amount if they're really large)
1 T. unrefined sea salt, or more to taste
½ tsp cayenne pepper
2 T. apple cider vinegar
2 tsp oregano (I like lots of herbs, so I use 1 T.)
2 tsp thyme (I like lots of herbs, so I use 1 T.)
2 chicken breasts, or 4 cup shredded chicken
12 cups of nutrient rich bone broth, preferably homemade
Instructions
In a large pot with a lid, or slow cooker add all of the ingredients together and stir to combine.
Bring the mixture to a boil, then reduce to a simmer and cook until the veggies are soft, or about 45 minutes.
Taste your soup and adjust the seasonings as desired. Remember, that you can always add more in, but you can't take it out! You can also add a little more water if you like it brothier.
http://www.theherbalspoon.com/2016/12/chicken-soup.html
Recipe from The Herbal Spoon
What do you eat during a cold or flu to feel better? Let us know in the comments below and be sure to share this post with a friend!