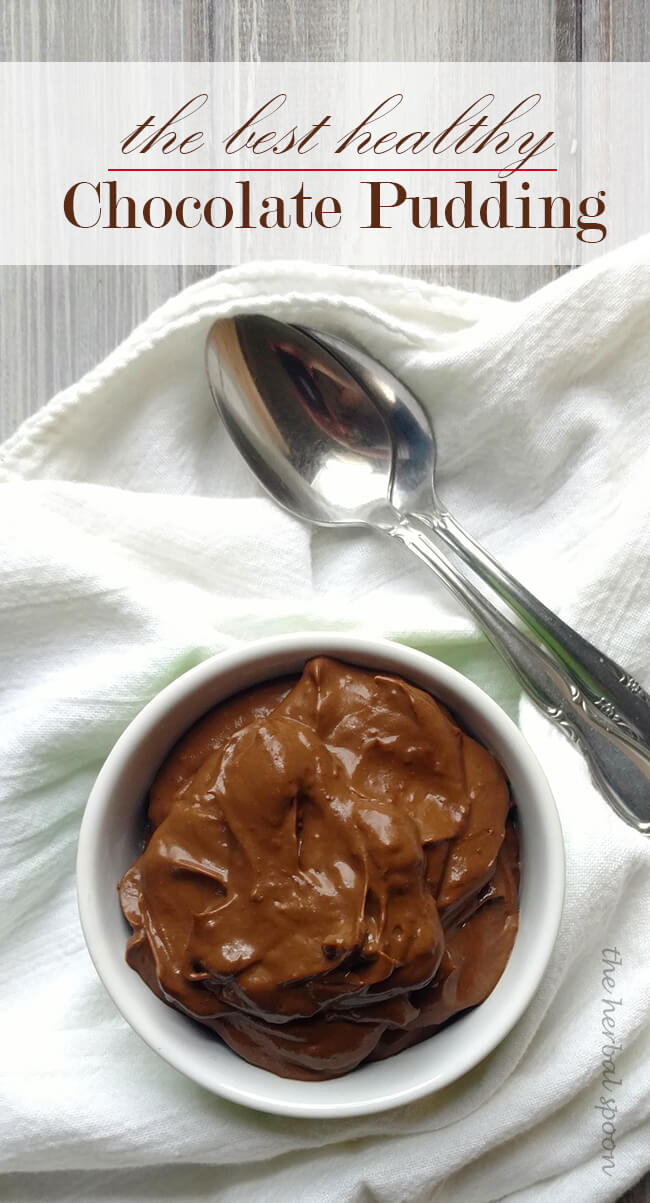 I'd eat chocolate at every meal if I could get away with it. Unfortunately my blossoming waistline won't let me. And the fact that I've given up sugar in pursuit of healthier, yet just as tasty options.
The struggle is real
These dark chocolate salted cookie dough truffles are one of my favorites, but it takes a bit to put together. And these banana raspberry muffins are delicious, but they don't satisfy my chocolate cravings. There's always fruit, but sometimes I don't want dessert to taste that healthy.
I'd love to spend hours making a decadent, healthy chocolate cake, but I don't have time for that anymore. Not unless I'm willing to let my house go and my family fend for themselves while I'm busy making/eating cake. It's tempting sometimes.
Instead, I make this chocolate pudding with a superstar ingredient. It's healthy, it's simple, and quick. If I'm in a good mood,  I'll even share.
What makes this so incredibly healthy?
Sure you could just use grassfed milk, or coconut milk if you're doing the paleo thing, and call it a day. This chocolate pudding however is packed with nutrition, with little sugar. Cocoa powder is full of magnesium and antioxidants for better brain function and a host of other benefits. Stevia and honey offer a hint of sweetness, without giving your blood sugar levels a heart attack.
The star of the show here is the nutrient dense avocado. This veggie…err fruit, is the star of many a guacamole, but it's more versatile than that. It's smooth, creamy texture makes the perfect base for a healthy chocolate pudding.
The humble avocado
Avocado is packed with folate, potassium, and Vitamin C. It's high in healthy fats for glowing skin, a better brain and it's filling. Most desserts feature empty calories and lots of sugar that hit the spot for a brief moment, but fail to satisfy like the nourishing fats in avocado. All you'll taste though is rich chocolate.
Make this healthy chocolate pudding even simpler
This recipe only takes a few minutes, but it can easily be made ahead of time. These mini mason jars make perfect storage containers for portable pudding. That's assuming you can control yourself from eating the whole batch.
This healthy chocolate pudding is the perfect way to enjoy dessert, without making your waistline upset at you.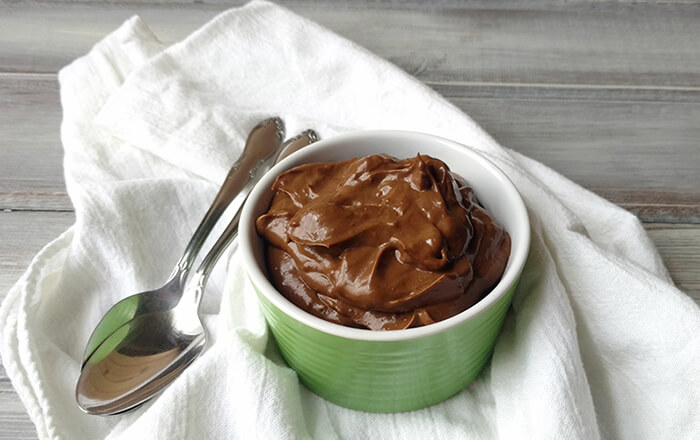 The Best Healthy Chocolate Pudding
Ingredients
1 very ripe avocado
3 T cocoa powder
1 T coconut nectar or raw honey
10 drops stevia glycerite (or to taste)
1 tsp vanilla extract
pinch of sea salt
1/3 cup milk of choice (grassfed, almond, coconut, etc.)
Instructions
In a small bowl mash the avocado until smooth.
Stir in the rest of the ingredients until smooth.
Alternatively this can be made in a small food processor. It's faster this way, but the end result may not be as smooth.
Promptly refrigerate any leftovers.
http://www.theherbalspoon.com/2017/04/healthy-chocolate-pudding.html
Recipe from The Herbal Spoon
Want more yummy recipes like this? Get the newsletter here for infrequent updates, exclusive content and discounts on my favorite natural living products!